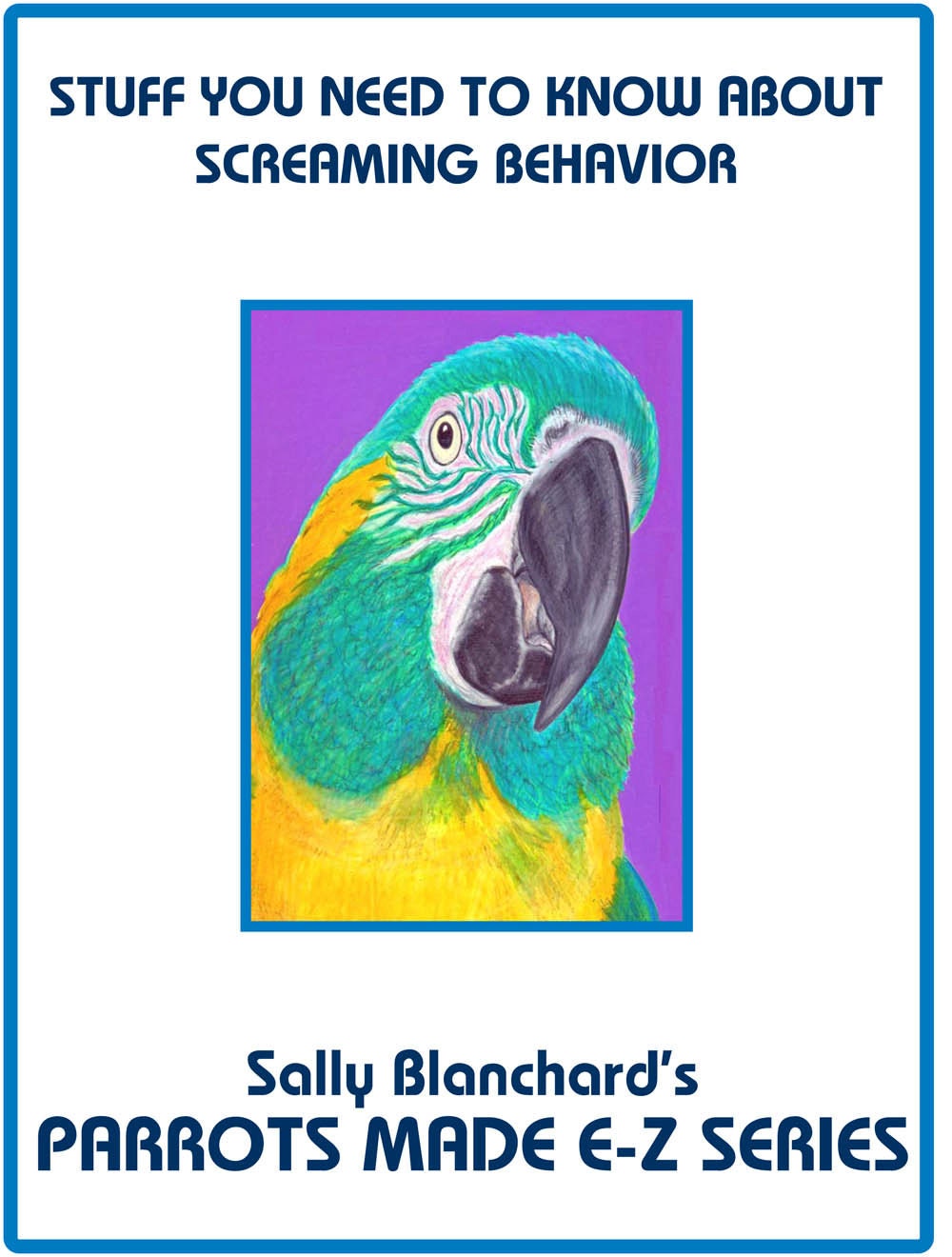 Sally Blanchard's Parrots Made E-Z: Stuff You Need to Know About Screaming Behavior in Companion Parrots

WRITTEN AND ILLUSTRATED BY INTERNATIONALLY-KNOWN PARROT EXPERT SALLY BLANCHARD

IMPORTANT - IF YOU ORDER THIS .PDF, ETSY WILL SEND YOU AN EMAIL TO DOWNLOAD IT: Please check the email you have given to ETSY and your Spam file if you don't find it.

31 pages

Topics include:
- Easy to Prevent Harder to Solve,
- Parrot Vocalization is Communication,
- Noise Tolerance, The Human Element,
- Raucous Good Time Parrots,
- Anticipating Noise Patterns,
- Immediate Cause and Effect,
- Understanding Contact Calls,
- #1 Problem is Screaming for Attention,
- Anticipation of Need,
- Changing the Person First,
- Bad Advice Creates More Problems than it Solves,
- Trying "Everything", A Trade-off,
- Greetings and Farewells,
- The "Primal Psitta-Scream",
- Repatterning a Parrot Not to Scream,
- On the Street Where He Lived,
- Unspoiling a Cockatoo,
- Noisy Playtime is Important,
- The Technique of Noise Substitution,
- Changing Negative to Positive,
- Instructional Interaction,
- Self-soothing and Comfort Behaviors,
- Quick Disapproval - NOT Punishment,
- An Emotionally Secure "Bappyhood",
- Dependent Independence,
- Permanent Changes are Not Easy,
- Screaming Basics: Unacceptable Screaming,
- Screaming Basics: Acceptable Screaming

I wrote the Parrots Made E-Z Series (14 vol so far) to help parrot caregivers understand the issues involving their parrots that seem to cause the most problems regarding the behavior and care of their birds. Each volume of this series is under $10, is fully illustrated by Sally and provides in-depth information about the topic.
Digital downloads
File delivery
Your files will be available to download once payment is confirmed.
Returns & Exchanges
I don't accept returns, exchanges, or cancellations
But please contact me if you have any problems with your order.